J Street is always buzzing, just like all those drones flying around!  Here are some things I've been thinking about.
~ Armen Stein
Amazon's Proposed Drone Service
Amazon has released how their Prime Air drone delivery service will work, at least in theory.
While still in the research & development process, there are several obstacles to overcome (including FAA regulations) but I think that they have overlooked a big hurdle that postal carriers and UPS drivers around the country face every day – dogs.
I can envision my dog, Jack, sleeping peacefully at home and all of a sudden hearing the low buzz of a drone. I am sure that he will rush to the door at break-neck speed to protect our home.
Perhaps if we order some dog treats for drone delivery, Jack will learn to love them.
Don't get me wrong – technology is awesome, but sometimes you just want to get away from it all… and what better way to escape than to play pinball on an old school machine!
Here is our in-house escape (and me, with a fun outfit and hairdo to match!)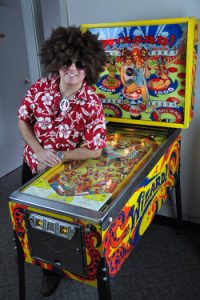 Years ago my wife found this gem at a garage sale, and we decided to buy it. The Wizard recently made the trek from my home to J Street's office where we hold after-hour pinball competitions.
The Bally Wizard (inspired by the 1975 movie 'Tommy' and including likenesses of Roger Daltry and Ann-Margret on the backglass) was one of the last fully Electro-Mechanical (EM) games. All the logic is managed by physical wheels and relays. At least it isn't susceptible to software viruses!
Wizard is also the first pinball machine based on a licensed movie theme. This cross-section of pinball history makes it a sought-after collectible. I'm glad my wife found it!
Maybe you're new to J Street, or maybe you've known us for many years. We still build Access applications, but now most of our projects are public web applications like Fireplace Xtrordinair's Firebuilder or applications for internal users. We also integrate systems with Salesforce, QuickBooks and Dynamics CRM. Maybe we can help you with a project you've been thinking about!
Office 365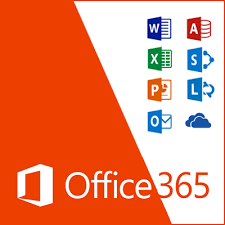 Are you looking to set up or upgrade your office services to Office 365? We can help!
From configuring Office 365 user & group accounts to set up your SharePoint environment, we help make the process as seamless as possible, including migrating over your existing email.
Why use Office 365?
There are many benefits to using Office 365, including:
Accessibility – you have access to Word, Excel, Outlook, and other Microsoft Office tools from anywhere you have an internet connection – home, Starbucks, or the beach!
Security & Updates – No need to worry about applying updates and security fixes on your local server – Microsoft handles all of that for you.
Backups – They're automatic. No need to worry about onsite backups failing.
Office Software – many Office 365 plans include the latest version of the Office desktop suite (including Access) so you can always be up to date on your PCs.
Contact us today to discuss your needs and options!