J Street is always buzzing, just like the bees in the spring blossoms!  Here are some things I've been thinking about.
~ Armen Stein
The Most Insane Production Car On the Market
The Tesla Model S is arguably the best car you can buy right now, and Consumer Reports agrees. I've driven one, and I agree too. But the P85D version (D for Dual motor) is truly amazing. You can even select "Insane" for the acceleration mode – Zero to 60 in 3.2 seconds!
Last summer we finally made the decision to cancel our cable subscription and use an antenna.  Our house is in a challenging location, with a hill between us and the Seattle transmitters.  So I got a top-of-the-line antenna from Antennas Direct and installed it on my roof, with an antenna booster and a powered splitter.  When I took returned my Comcast gear and canceled my account, I was ecstatic.  For a while.
My new setup worked – 95% of the time.  Even with all that technology, the signal still broke up occasionally, especially when it rained.  Did I mention we live near Seattle?
After six months of this, my wife and I couldn't take it anymore – we signed back up with Comcast.  The silver lining is that we had become accustomed to receiving only over-the-air channels, so we got the almost-secret Limited Basic plan.  It costs under $20/month, so we are still saving a ton of money.  We have more shows than we have time to watch, especially since our TiVo also streams Netflix and Amazon.
Have you tried to cut the cord Have any questions?  Let me know!
Access Days Caribbean 2016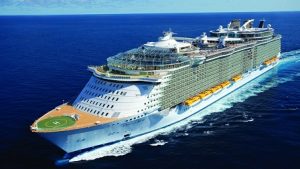 Access Days Caribbean 2016 will set sail on January 30, 2016, aboard the Oasis of the Seas. The sessions are in the mornings while at sea, so they won't impact your evenings or ports of call. If you or someone you know wants to learn more about Access, check out our Access Day page for all the details. Early Birds can still save $100!
Do You Know What We Do?
Maybe you're new to J Street, or maybe you've known us for many years. We still build Access applications, but now most of our projects are public web applications like Fireplace Xtrordinair's Firebuilder or applications for internal users. We also integrate systems with Salesforce, QuickBooks, and Dynamics CRM. Maybe we can help you with a project you've been thinking about.
My PowerPoint Pet Peeve
Are you presenting your slide deck properly? Most people just open their PPTX file, showing the ugly design mode to everyone, then click the slideshow button. That's clunky!
It's much cooler to Save As a PowerPoint Show (PPSX) file. Then when you open it, slideshow mode appears immediately.
If you need to switch from your deck to another program or the desktop, you can use Alt-Tab or your Windows key.