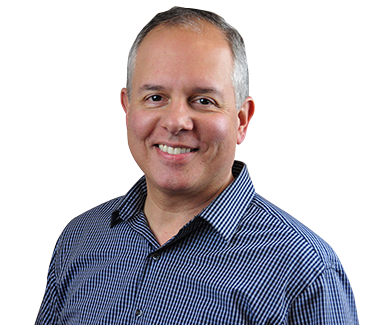 Friendly, practical,
business-savvy developers
Yes, we really do exist.
SEE WHAT WE DO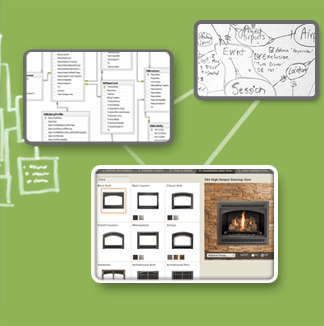 Database programmers.
Web developers. Trusted partners.
Our clients depend on us to dive deep into their business issues, re-imagine processes, elucidate strategies, and be totally transparent about costs. They count on us to build reliable systems using the industry's most bulletproof software. And they fully appreciate that we're practical innovators who only recommend new technologies when we're certain they can provide long-term value.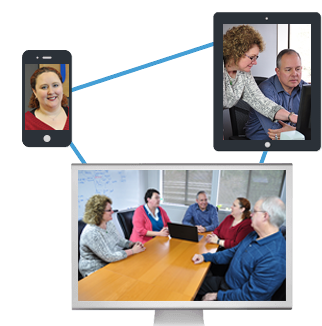 A human approach to application development.
Let go of that programmer stereotype: introverted, oblivious to budget, and hell-bent on using all the latest gadgets. At J Street, we're fully plugged in to the human dynamics behind creating successful partnerships and phenomenal solutions. You won't find anyone that's better at listening carefully, anticipating issues, and avoiding pitfalls.
HOW TO CHOOSE A DEVELOPMENT TEAM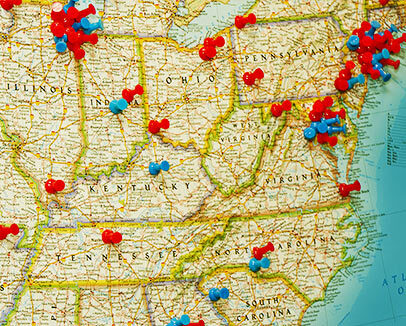 From cruise ships to clogs, we're into it.
Our clients represent an astounding variety of industries. Some have household names; some you've never heard of. Some are local; others multinational. There are for-profit businesses, and not-for-profits, too. But they all have one thing in common: Every day, J Street's solutions help them do what they do even better.
WHAT CLIENTS SAY ABOUT J STREET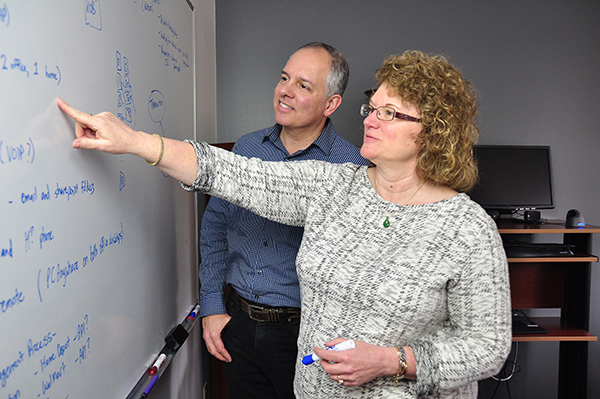 Engaged. Insightful. Enduring. That's
J Street

.

We may be some of the most seasoned, business-savvy application developers you'll ever meet. We also happen to be some of the warmest, most candid, and clear-thinking folks on the planet. Our clients love that about us. We bet you will, too.

GET A FREE CONSULTATION
We do Architectural Framework Planning
This is the first step in every custom development project we take on. Sometimes it's the whole project! Our process involves doing a thorough, thoughtful analysis of your business practices and the issues you want to address. The end result is a detailed game plan outlining the ideal solution and all the associated costs. Learn the details in "How We Work."
We design and build custom applications.
J Street's
objectives here are constants: to streamline business processes, reduce costs, and boost bottom lines. Our desktop applications rely on Microsoft Access and SQL Server, and provide a rich, familiar Windows interface that flattens learning curves and keeps your business moving forward. Our web applications – built using ASP.NET and SQL Server – give your staff, customers, and suppliers fast, secure, and easy-to-use access from anywhere in the world. (Check out our
web vs. desktop apps quick reference
comparison.)
We enhance and maintain existing software.
Maybe you already have a solid, reliable system but no technical team to add new features or do routine maintenance. Call us. We're experts under the proverbial hood, and have partnered with many clients to support and enhance their existing software to meet evolving business needs.
We offer CTO consulting services.
Sometimes you just need someone in your corner when it comes to dealing with technology and business decisions. Our president Armen Stein offers a "CTO on tap" service to companies that need help with technology vendors, partnerships with other companies, managing a technology team, hiring a new IT employee, and other business and technology issues. You can work with Armen for an hourly fee for just the time you need, without hiring an expensive new Chief Technology Officer. 
Contact us
 and let us know what you need!
Wishing your custom database application could communicate directly with systems like Microsoft CRM, Salesforce, or QuickBooks? We're well versed in the data structures and connection methods they use. Through automation and integration, we can link disparate systems, saving you all the time, hassle, and errors associated with transferring data manually.
We do great work with clients near and far.
No matter where you are, we will efficiently and effectively communicate with you via web conferencing, screen sharing, telephone and e-mail. Of course when the situation calls for travel, we're more than happy to visit your site and to welcome you to ours. The bottom line? You should choose the best development team, not the closest.
We're in the business of building software but we also test other systems, carefully troubleshooting and documenting issues with fresh eyes and a new perspective. Our systematic testing methods and attention to detail increase confidence that the application is ready for your customer.
We provide stellar hosting services.
Our servers are kept up-to-date and the data center is manned with 24/7 security personnel. Badge/photo ID access screening as well as biometric access screening are employed for an added level of security.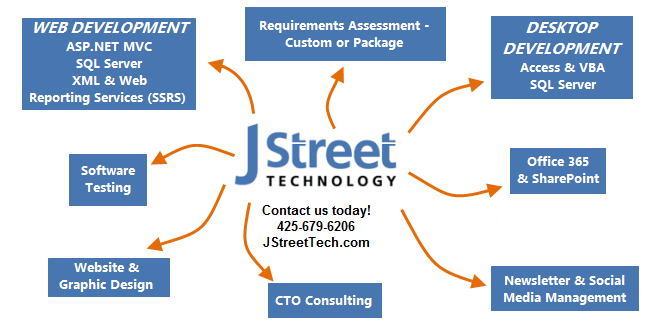 ASP.NET MVC
Microsoft SQL Server
Microsoft Access & Visual Basic for Applications (VBA)
Microsoft SQL Server Reporting Services (SSRS)
JavaScript & jQuery
XML & Web Services
Quickbooks custom integration and programming
Office 365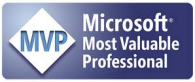 President Armen Stein has earned the 
Microsoft MVP Award
 every year since 2006. That tells you something about his passion for technology.

In fact, the whole J Street crew shares his commitment. We've proven that by earning some of our industry's most prestigious certifications. As a Microsoft Certified Partner, we have access to the latest technology, tools, and support 24 x 7 x 365.